Hypnosis Skype Online Hypnotherapy
Hypnosis Convenient Confidential Online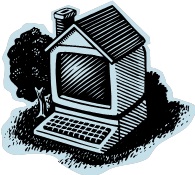 Hypnosis can make changes through listening to a recording. But it is really most effective when the hypnotist and the client can see each other. The hypnotist needs to be able to talk to the client to find out what the problem is, or there is a danger that the therapy may miss the real issue. The hypnotist also needs to be able to monitor how the client is reacting to the hypnosis in order to fine tune the delivery and get the maximum effect. Hypnosis Skype has many advantages.
It is not always convenient to get to the hypnotist's office but through the magic of the Internet it is now possible to have a one-on-one hypnosis session even when you are in a different country.
Skype Consultations
Thanks to Hypnosis Skype it is now possible to have a consultation without having to travel. If you are not able to visit Wellington Hypnosis in person then perhaps an online session is the answer.
Set up
All you need is a computer or phone with a camera and a microphone. Most devices now come with these built-in so it has never been easier. You need to install a program called Skype if it is not loaded already, but that's OK - Skype is free. The calls are also free, so it doesn't matter how long you are connected or how far away you are calling from.
With Skype you can either use it like a regular telephone, or you can turn on the camera so that both people can see each other. Usually the quality of the call is excellent, and easily good enough to conduct a hypnosis session. It is the next best thing to being there.
How it works
You have to enter the Skype address of the person you want to contact. Then Skype will contact that person and ask them to agree to take calls from you. Once that is done the two people can call each other anytime they want. Test that the system works OK and you are ready to go.
All you need to do then is to arrange a time for the session. Find a quiet place where you won't be disturbed by family, telephones, animals etc. Turn off any fans or air conditioning that might start sudden noises. It is best if you can use headphones but the set up is pretty simple.
What it is used for
The online nature of a Skype Session suits not just people who are unable to travel to the office, it also means that people who are unable to get hypnotherapy services can now do so.
I have worked with many people in different parts of the country, but also with people from overseas. Some countries do not have hypnotherapy services at all so this is the only way that they can get hypnosis.
The other advantage of an online session is confidentiality. Some people do not want others to know that they are seeing a therapist so this enables them to have several sessions without anyone knowing. Some people do not feel comfortable talking about their problem with their family clinic, and some people have problems that they just cannot reveal in the society they live in. So an online totally confidential service where no one will ever accidentally find out is ideal.

Call Wellington Hypnosis on Skype
The Skype address is:
hypnosis-dave-mason