20 years of experience in hypnosis and hypnotherapy
Are you wondering if hypnosis is the way for you?
Your health is important, and you need to be sure that the person you're dealing with knows what they are doing.
So let me introduce myself. I am David Mason PhD.
What I do
I have been a professional member of NZAPH (New Zealand Association of Professional Hypnotherapists) for 17 years or so. Currently, I am  the Vice President of the Association.
I have been running a hypnotherapy practice in Wellington for more than 17 years. My focus is on stopping smoking, but I also do hypnosis for weight loss, anxiety and relationships. I have no idea how many clients I have seen but it must run into thousands. My focus is always on how to make a change in you right now. Results are what count.
Qualifications
I have a Masters Degree in Psychology from Victoria University of Wellington, NZ and a Graduate Diploma in Psychology from Victoria. For more than 40 years I have been a full time lecturer in universities around the world.
(I am highly qualified in other areas: PhD in Quality Systems from Massey University, Masters in Computer Systems Analysis from LSE, Graduate Diploma in Management from London Westminster University, Graduate Diploma in Finance from the University of the South Bank, London. Post Graduate Diploma in Higher Education Teaching and Learning from Victoria University. I have written several textbooks used in universities.)
Professional recognition
I have published three books of hypnosis scripts and several academic journal articles on hypnosis. My work has been cited and used in independent academic research.
I have presented at professional conferences. My hypnosis scripts are used by hundreds of hypnotherapists all over the world every day. In addition, other hypnotherapists regularly consult me for advice. I have been on more training courses than I can remember.
Personal Life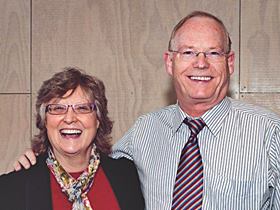 I live in a beautiful forest block in Silverstream with my wife Trish and a cat called Parsnip. There is a custom built home office where I see clients. For those with work or family commitments I can arrange evening and weekend appointments.
The address is 218 Blue Mountains Road Silverstream Upper Hutt. 029 773 4400
I love what I do and I look forward to meeting you.
Yes!
I am ready to change
BOOK NOW!