Hypnosis, Hypnotherapy and You
A client's guide to Hypnosis
Hypnotism and Hypnotherapy
Hypnosis is powerful and used every day to fix many different problems. If you are thinking about having hypnosis this section shows you what hypnosis has been used for, and how it has worked for past clients at Wellington Hypnosis.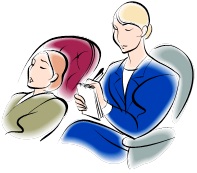 Hypnosis is a quick and simple way to end a range of problems. It is mostly used for stopping smoking and losing weight, but can also deal with lack of confidence, anger, jealousy, relationship problems and much more.
Everyone can go into hypnosis and everyone can benefit. The hypnotist is simply guiding you to use your own natural healing ability. A session takes about an hour, and you can drive home or go back to work afterwards.
This section explains how hypnosis works, what hypnotherapy is, and gives some examples of how Wellington Hypnosis has helped other people. Hypnosis is very effective. Hypnosis is safe and has no side effects at all.
Your first Hypnosis session
What happens in your first hypnosis session?  This explains what you have to do, how the hypnotherapy is done, and how you will act and feel during and after.
Understanding Hypnosis
Hypnosis can seem mysterious and threatening. Or you might think it is all just nonsense. This section explains what hypnosis is from the point of view of someone thinking of using it for the first time.
Personal Hypnotherapy Stories
In this section previous clients describe their experience with Wellington Hypnosis in their own words. This gives you a more personal view of what is like to be hypnotized.
Hypnosis Typical Cases
This page describes some common problems that hypnotherapy can eliminate. Each of these hypnotherapy examples are based on real cases with a confirmed successful outcome.
Stop Smoking Hypnosis Cases
In order to end smoking you need to find out why you need to start again, and fix that. Most people have no idea why they smoke and that is why they can't stop on their own.
Weird reasons for smoking
Every smoker is unique. Every smoker smokes for a particular reason. Most people smoke to fit in, or relieves stress or to relax. But there are some very strange reasons as well.
Eating Problems Cases
Eating problems are always emotional problems. Weight loss hypnotherapy traces the origin of your eating habit and eliminates it. By getting rid of the underlying problem you get rid of cravings for food.